Bleached Knots VS Unbleached Knots: What is the Difference
Lace wigs are favored for their flawless hairline appearance. When you are decide to investing a beautiful lace human hair wig, you may be faced with the decision of whether to choose a "bleached knot" or an "unbleached knot." Both options have different characteristics. exist. Today, we will explore what are wig knots and the difference between bleached knots and unbleached knots.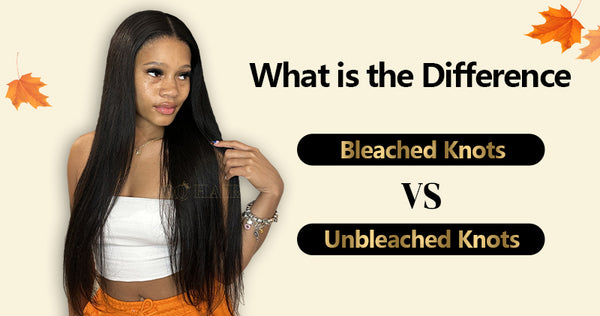 What are Wig Knots
Wig knots refer specifically to the black knot at the bottom of a lace-type wig. All lace wigs are hand-tied by workers to each hair strand on a lace base. A wig knot is a knot made when a single strand of hair is tied to a lace base. If you purchase a dark-colored wig, the dark color and visibility of these obvious knots can significantly affect the natural look of the wig. As shown in the picture below, these obvious black parts are the black dots at the lace base holes.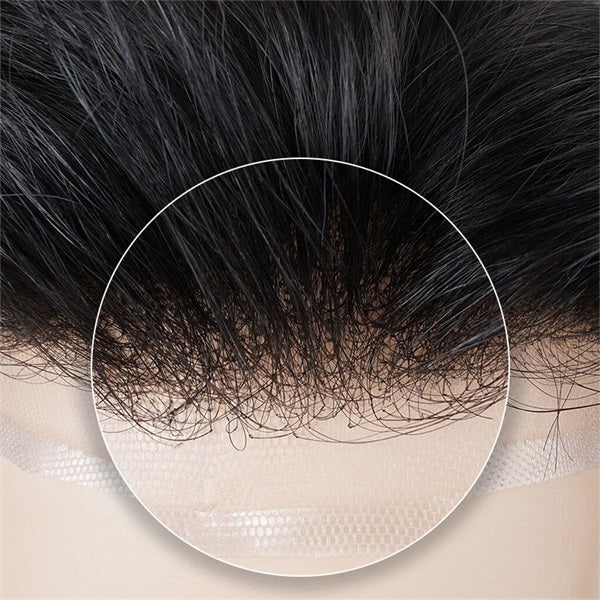 Why Bleach Knots on Lace Wig
To make these knots less visible to the naked eye, the knots need to be bleached to a lighter color. Bleached knots make lace wigs look more natural as if the hair is growing directly from the scalp rather than protruding from a cluster of knots. This The process can eliminate the appearance of dark dots on the knots, enhancing the naturalness. It is worth noting that if your wig is a 613 blonde wig, you can skip this step. Because the knots on light blonde hair are also light. No additional bleaching treatment is required.

Most wig wearers prefer to go to a professional salon for bleaching and customizing their lace fronts to achieve the perfect look after they receiving their brand new lace frontal. However, some experienced individuals choose to bleach their wigs at home. If you want to try bleaching your wig on your own, you can read this article:How To Bleach Wig Knots: A Beginner-Friendly Tutorial to help you better understand and learn the correct steps for bleaching knots.
Bleached Knots VS Unbleached Knots: What is the Difference
Now, let's take a closer look at the differences between bleached knots and unbleached knots:
Appearance
Bleached Knots: When knots are bleached, they are chemically treated to lighten their color. This makes them less visible and creates a more natural-looking scalp appearance. The knots appear lighter and closer to the color of the wearer's scalp, which helps to mimic the look of hair growing from the scalp.

Unbleached Knots: Unbleached knots have not undergone the chemical treatment to lighten their color. As a result, they appear darker and more noticeable on the lace, which can make it look like tiny dark dots where the hair is attached. This may require additional techniques to make the knots less visible.

Convenience
Bleached Knots: Pre-bleached wigs look as if the hairs are growing from the scalp. Therefore they generally require less maintenance to make the wig or lace frontal look natural. This can save time and effort when styling and wearing the hairpiece.

Unbleached Knots: Unbleached knots may appear less realistic because the dark knots are more visible and can be easily detected, especially on lighter-colored lace or when the hair is parted.

Maintenance
Bleached Knots: Bleached wig requires more maintenance time and cost compared to unbleached knots wig. Because a lot of chemical dyes are used in the bleaching process, which will make the root of the hair weak. They're easier to come off when you're doing big movements.

Unbleached Knots: Unbleached knots may be slightly more durable since they haven't undergone any chemical treatment. However, their visibility may make them more susceptible to premature wear and tear if not handled carefully.

Budgetary
Because bleaching knots involves an additional step in the production process, pre-bleached wigs tend to be slightly more expensive compared to traditional wigs with unbleached knots. Some individuals, considering budget constraints, may initially opt for wigs without bleached knots. However, the cost of getting knots bleached at a hair salon can also be substantial, and attempting to bleach knots at home can be time-consuming and challenging. Novices may struggle to master the technique and risk over-bleaching, potentially damaging the wig. Therefore, we strongly recommend purchasing pre-bleached wigs for a hassle-free and reliable solution.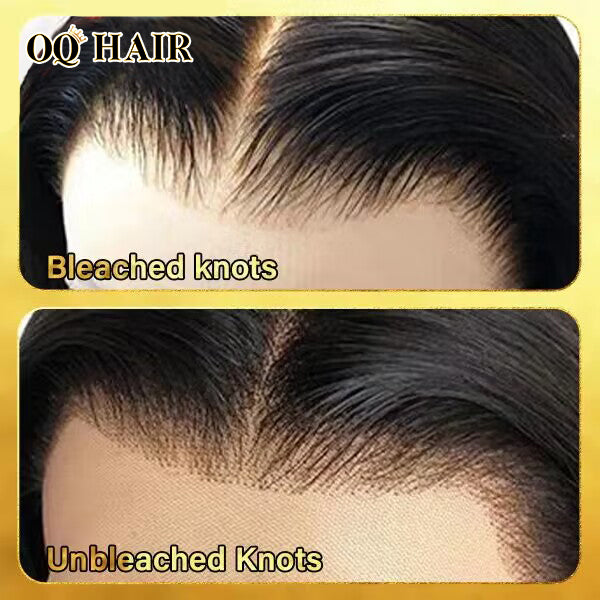 Where to Buy Pre-bleached Wigs
If you're looking to buy pre-bleached wigs, one reputable option to consider is OQ Hair. OQ Hair is known for offering high-quality various type of human hair wigs at affordable prices, ensuring a natural and seamless look.
There are two type of pre-bleached wigs you can choose, one is traditional lace front bleached knots wigs and another type is wear go glueless bleached knots wigs. With OQ Hair pre-bleached wigs, achieving a flawless natural look has never been easier. Whether you're new to wig-wearing or a seasoned expert, you will be stunned by the attention to detail we put into every wig. Shop at the OQ Hair online store, buy now, and pay later!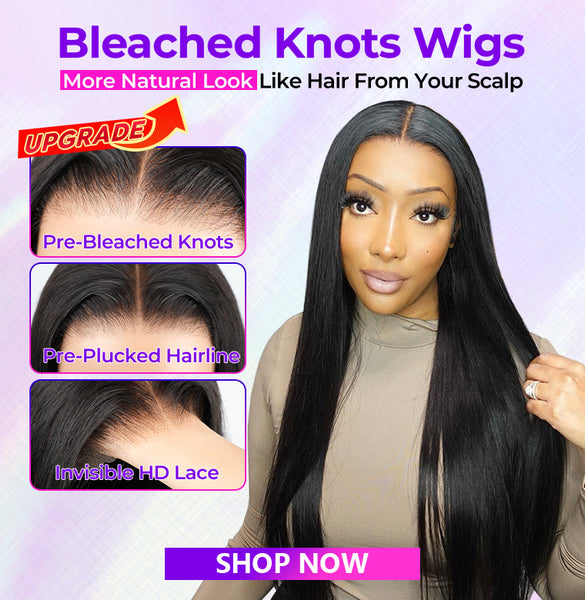 Final Word
Whether you choose a "bleached" knot or an "unbleached knot" depends on your personal preferences and needs. If a natural look is your thing, then a bleached knot might be a better choice. But if you need a lower-maintenance wig, an unbleached knot may be better for you. Whatever your choice is, be sure to base it on your specific needs. This way, you can be sure that your wig will meet your expectations both in appearance and performance.
---