V Part Wig VS U Part Wig: Which One is Suitable for You
For many wig beginners, distinguishing the difference between V part wig and U part wig is not a simple matter due to they have a similar look. Although these two wigs are close in appearance, however, there are still apparent differences in construction and application. This blog will explore the differences between V part wig and U part wig, helping you choose them.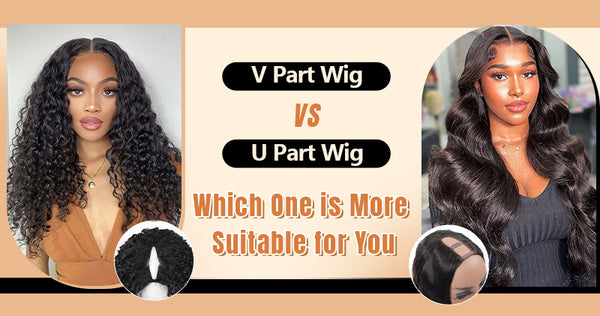 What is V Part Wig
V part wigs are also known as thin-part wigs, featured with a distinct V-shaped opening at the crown of the wig. The V-shaped parting allows for easy styling and offers a seamless appearance. The V part wig is typically worn with the V shape middle centered on the top of your forehead but it can also be shifted slightly to the left or right for parting variation.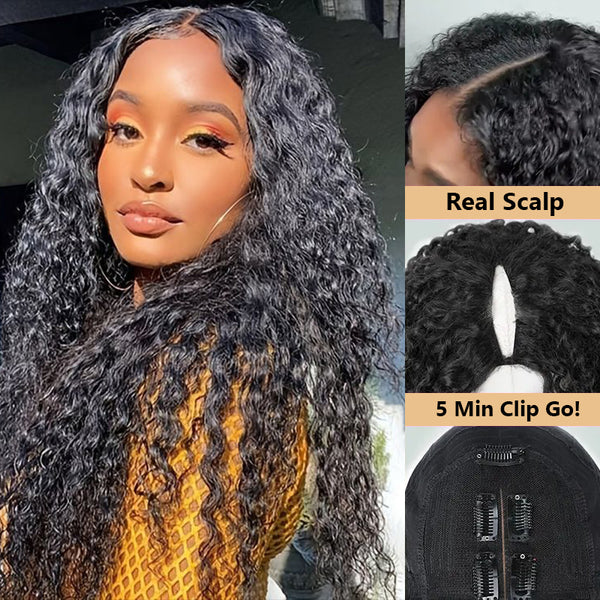 Pros of V Part Wigs
No glue required, protect your scalp and natural hairline.
Easy to apply and remove, suitable for daily wear.
The price are more affordable compared to glueless lace wig.
Beginner friendly and those who with thinning hair.
No sew-in, no leave out.
Low maintenance.
Cons of V Part Wigs
Compared with lace wigs, v part wig has fewer styling options.
It may take you some time to find out a perfect-fit v part wig if you planning to wear a v part wig with leave out.
What is U part Wig
U part wigs are featured with a U-shaped opening at the crown, leaving a small portion of the wearer's natural hair exposed. This design allows the wearer to blend their natural hair with the wig. U part wigs are a great choice for those looking to add volume and length to their natural hair without covering it entirely.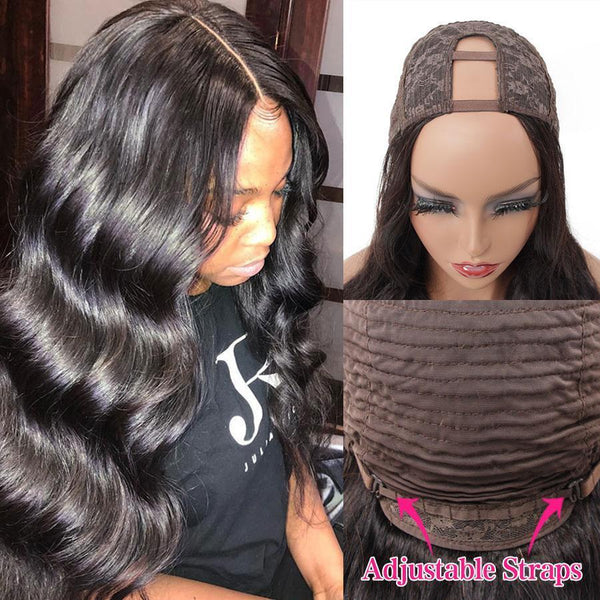 Pros of U Part Wigs
No adhesive needed, gluless friendly to those who have sensitive skin.
Can be quickly wear and take off. Let your scalp rest everyday.
Blend with you natural hair, gives you a realistic hair look.
Less maintenance than lace wigs.
Lower price correlate to traditional lace wig.
Cons of U Part Wigs
A U-part wig requires you to pull out a portion of natural hair to leave out. So if you have less natural hair, u part wig is not an option for you,
If you prefer changing the hairstyles frequently with a flat straightener, with a u part wig on, a portion of your natural hair inevitably has to be restyled in the meantime, which can damage your natural hair.
V Part Wig VS U Part Wig: What is the differences
1. Leave-out Hair
U part wigs make people have to leave out some hair in the front of their head.
The leave out is extremely minimal of V part wigs, and even you can don't leave out any hair. If you want to cover all traces of your natural hair, wearing a V part wig is a more ideal choice.

2. Opening Shape
The most obvious difference between V part wig and u part wig is the shape of the top opening. As the name suggests, one is V-shaped and the other is U-shaped.

3. Breathablity
Due to the U part wig has a larger opening space it is also more breathable. Larger openings allow your real hair to remain visible and breathe better.

4. Installation Type
Normally, U-part wigs can only be worn with leave-outs, but V-part wigs can be worn with or without leave-outs which gives you more optional choices.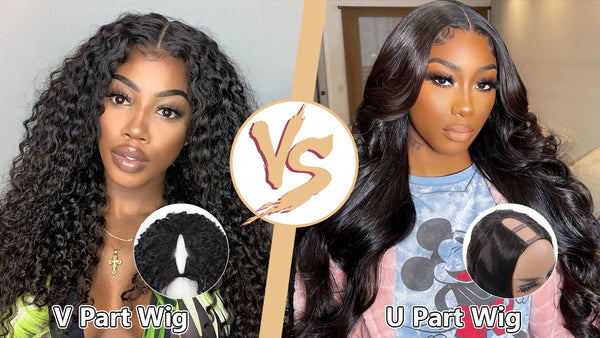 V Part Wig VS U Part Wig: Which One is Suitable for You
Life Style
Compared to U part wigs need you to blend your natural hair during the application process, V part wigs are easier and quicker to wear. For those with a busy schedule or beginners, a V part wig is a better choice.

Natural Hair Texture
People's natural hair texture also influences the decision. If your hair texture closely matches the wig's texture, the U Part wig may be the ideal choice since it allows for seamless blending. However, if your hair texture is significantly different, the V Part wig with its fixed parting might be more suitable.

Scalp Exposure Preference
Some individuals might prefer a more concealed hairline, making the U part wig less suitable for them.

Hair Volume
For people with thinning hair or baldness, choosing V part wig is a more sensible choice. It does not require more hair to be exposed like U part wig.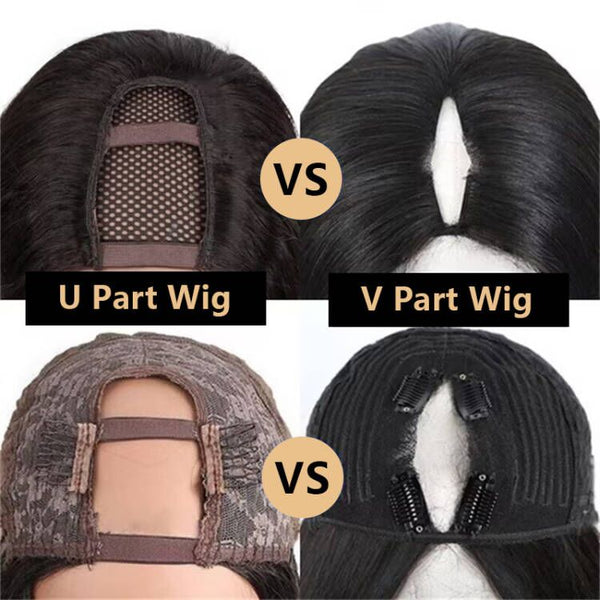 Conclusion
Both v part wigs and u part wigs offer unique benefits, and the choice between them depends on your personal preference. If you desire a more realistic hairline and versatile styling options, the v part wig might be the ideal choice, on the other hand, if you wish to blend your natural hair with the wig and have a simper application process, the u part wig could be the perfect option. Whichever you choose, both wigs provide an excellent way to experiment with different looks and enhance your personal unique appearance.
---